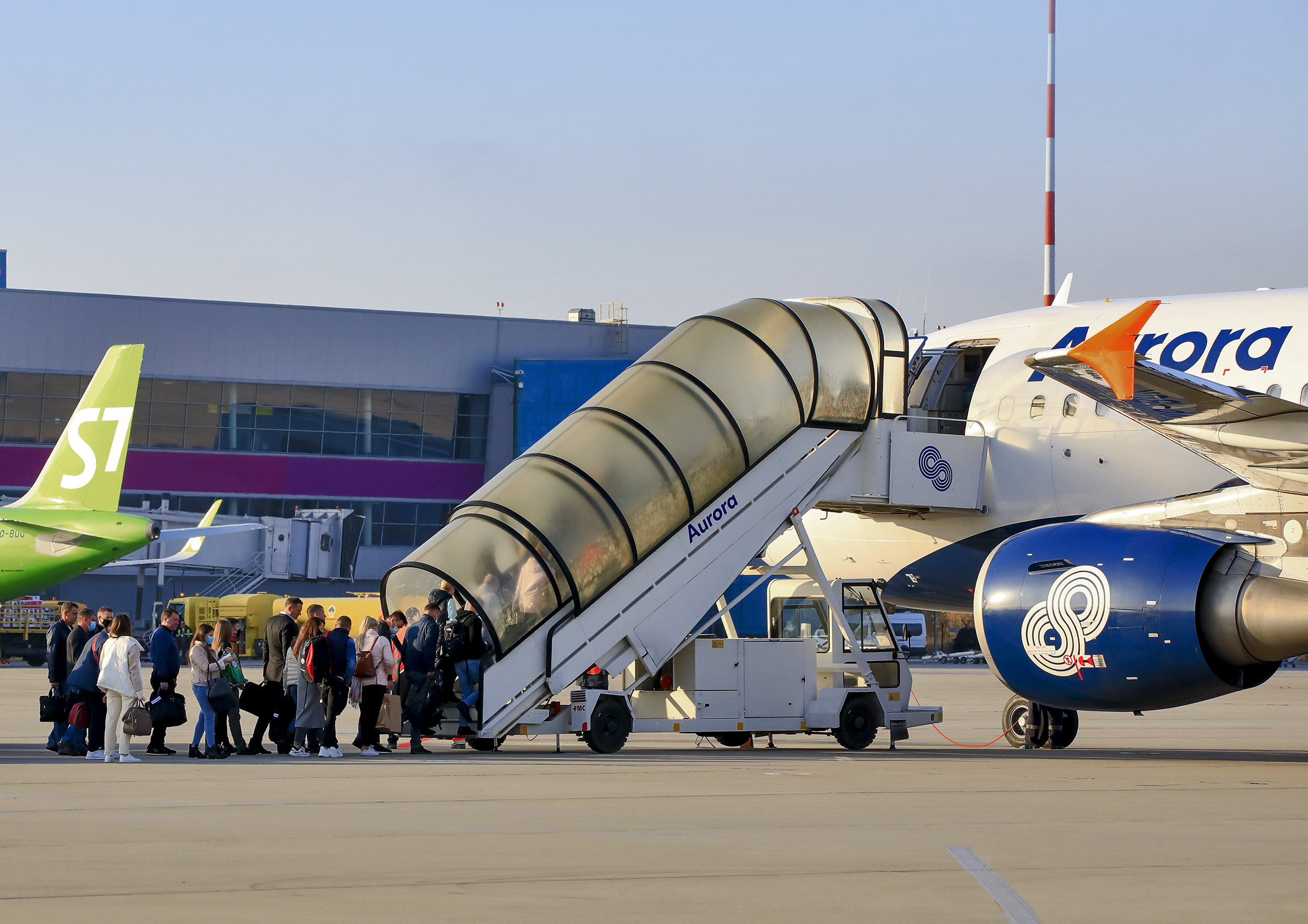 Vladivostok, January 20, 2021 – Vladivostok International Airport has summarized the results of the activity for 2020. The passenger flow of Vladivostok International Airport for the past year amounted to 1 mln 295 thsd passengers.
1 mln 70 thsd passengers were handled at Russian domestic airlines, which accounted for 83% of the total indicator for the year. The flights to Moscow, Novosibirsk and Yuzhno-Sakhalinsk contributed the most into the development of the passenger flow at Russian domestic airlines. The international passenger flow was 225 thsd people.
In the beginning of the year the airport Vladivostok greeted the first regular flight by the Chinese air company Nine Air en-route Yiwu — Vladivostok. Opening of regular flights to Tokyo airport Narita by two largest carriers of the land of the rising sun – Japan Airlines and All Nippon Airways – was a remarkable event. It should be noted that the Japanese direction was also supplemented by a new flight by the air company S7 Airlines to Tokyo airport Khaneda.
Despite the complicated circumstances that the air industry faced in 2020, Vladivostok airport continued its activity to develop the route network. Special attention in the airport's activity in 2020 was paid to development of Russian domestic destinations. Thus, new destinations to Sochi and Simferopol were opened last year; residents of Primorsky region for the first time gained an opportunity to visit popular resorts via a direct nonstop flight of the air company Rossiya.
In the Far Eastern destinations, the route network was supplemented with new flights to Anadyr by the air company S7 Airlines and flights to Neryungri by the air company IrAero. A flight Vladivostok — Krasnoyarsk by the air company Aurora was added to the list of flights in the Siberian direction.
In 2020, representatives of Vladivostok airport took part in forums on air routes development Network Online and Routes Reconnected, within which they held negotiations with more than 30 air companies of Russia and the APR countries. An introductory tour for popular bloggers of the Far East in order to demonstrate the touristic appeal of Vladivostok and Primorsky region marked the end of the year.
A number of services offered to passengers was introduced and improved last year. An additional service of speed servicing out of turn Fast Track appeared, new points of sales and service were opened.
One of the important innovations in the air enterprise's operation was an active introduction of Operation systems. The work of the projects' participants was aimed at optimization of operation processes, loss reduction and cost minimization.
In 2021, Vladivostok airport will continue the work to develop co-operation with air companies and open new fights, support co-operation with the partners and restore international flights as and when the situation in the world returns to normal. Special attention will be paid to development of Russian domestic destinations and promotion of Vladivostok as a destination on the domestic touristic market.