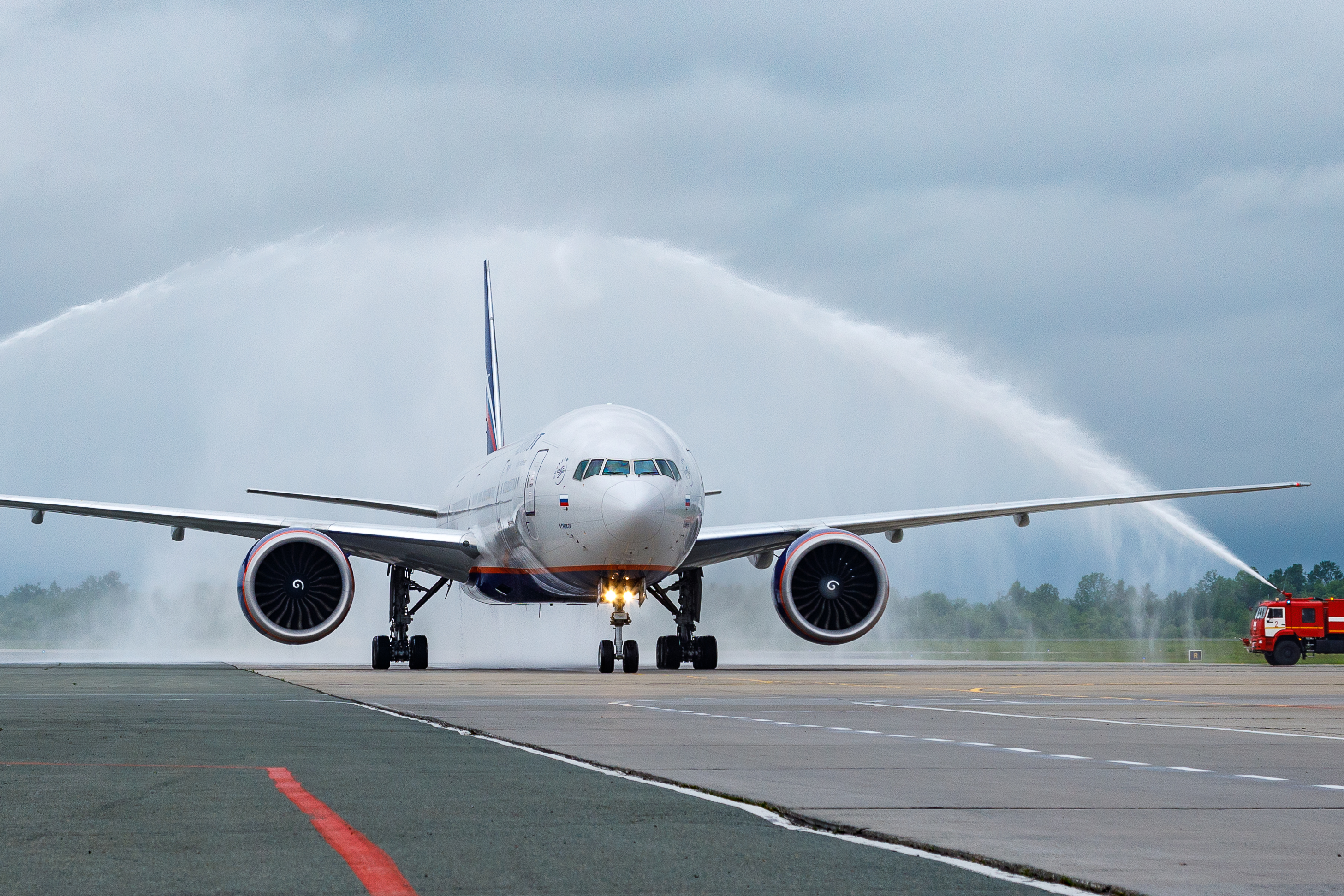 Aeroflot airline is launching direct flights Vladivostok — Saint Petersburg. On the occasion of the first flight, festive events were held in Primorye capital at Vladivostok airport on June 2
The airplane at the apron was greeted with a traditional 'water arch'. In token of the launch of a new direction, guests of honour cut a symbolic red ribbon, check-in desks were decorated with balloons, and the first passenger received a present from the gateway of Primorye.
Andrey Vinichenko, General Director of Vladivostok International Airport:
— Aeroflot airline is a strong and reliable air carrier for Primorye gateway. Launching this airline's direct flight to Saint Petersburg is a historical event for Vladivostok airport; previously, the airline has never operated flights in this direction. We are confident in the increase in the growth of tourist flow both from the northern capital to Primorye and vice versa.
Irina Lapitskaya, Aeroflot PJSC Far Eastern branch CEO:
— Today is, without exaggeration, a significant milestone both for the region and for the airline: for the first time in its history Aeroflot has launched direct regular flights from the northern capital of our country to the Far Eastern capital. Aeroflot continuously expands the domestic Russian route network, increases the number of flights on the most high-demand directions, raises transport connectivity of regions — even such remote from each other as Northwestern and Far Eastern Federal Districts. Thanks to new flights, residents of both Vladivostok and Saint Petersburg will have more opportunities to travel fast, affordably and, at the same time, with comfort and high quality of Aeroflot service.
Aeroflot airline's flights will be performed twice a week on Mondays and Thursdays. The departure from Vladivostok is planned for 11:45, arrival in Saint Petersburg — at 13:25.
The flight back from Saint Petersburg will be performed at 17:15 with arrival in Vladivostok at 08:50 of the following day. Local time is indicated for each airport.
The air carrier will perform the flights on wide-body Boeing 777 aircrafts. The total travel time from Vladivostok to Saint Petersburg will amount to 8 hours 45 minutes.